Art is one of the most valuable experiences that have been tied and wrapped in all aspects of human life since it all began. Every person, deliberately or unknowingly, willingly or unintentionally, has experienced Art. An artist is the one who, through many childhood experiences and passions, pursues art in a romantic way, to the point where it covers all aspects of the life.
Art is all of my life. Art has granted me freedom and wisdom. Sweet moments of living with forms and colours have all become my life's essence.
With all the struggles and hassles in this world, I try to teach the fervent students, the romantic experience of living with Art. Sharing my experiences and knowledge of art with younger generations has always been a priceless value for me and has always brought me joy and pleasure. Witnessing the enthusiastic eyes of students has been a part of my passion for artistic creation for years.
In addition to painting, I sometimes write, as if I could express my feeling through words rather than forms to create a verbal connection within me and the world around me.
After years of exploring in the unknowns of contemporary art, now love, freedom and peace are three words that I think of evermore and in creation of my art, I feel like I belong to a boundless world regardless of race, language and gender.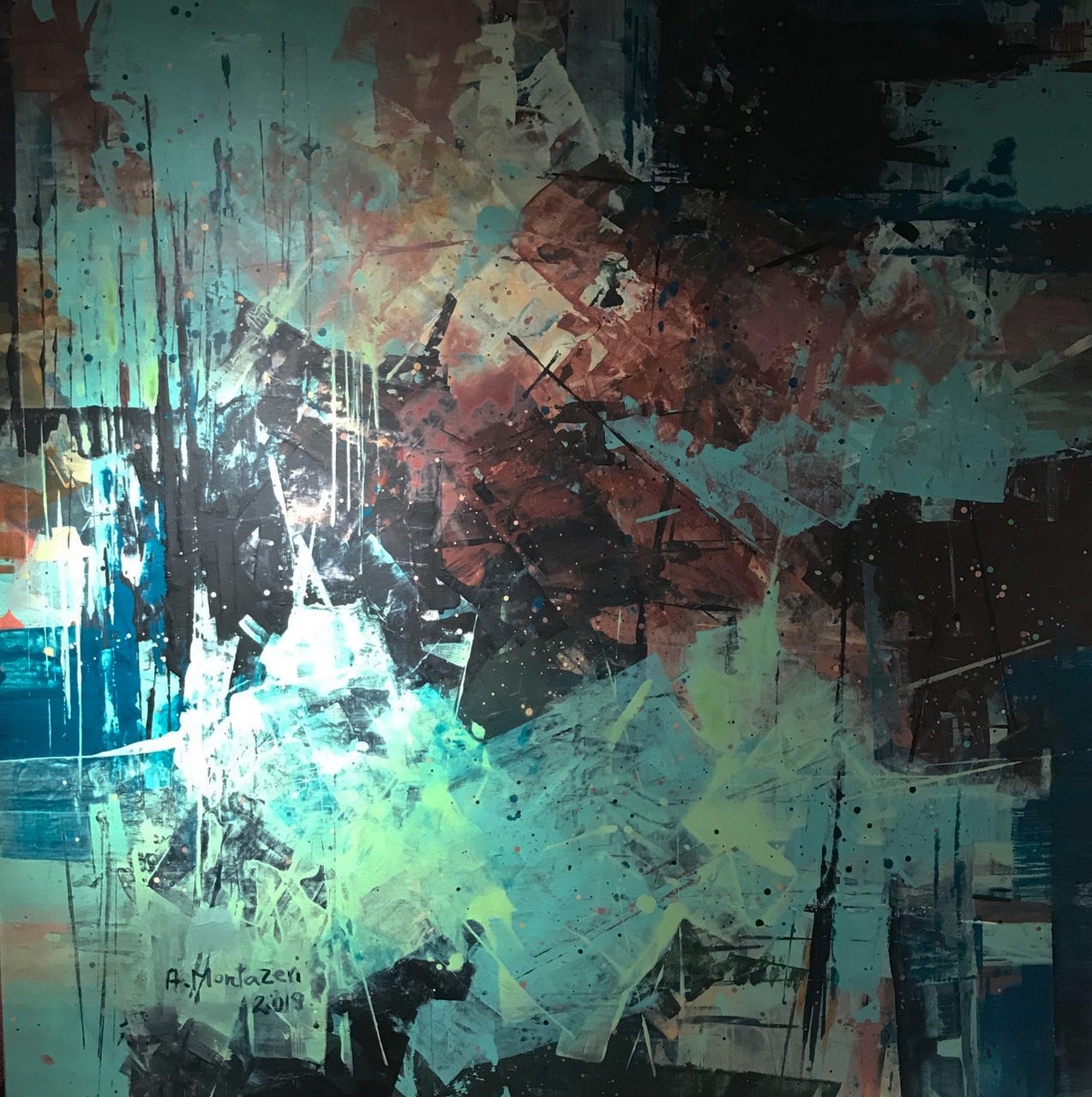 Achetez l'oeuvre
Contactez-nous pour des facilités de paiement ainsi que pour une livraison internationale offerte
Work Experience
- Art Director of the Iban Art website in Iran and France (www.ibanart.org) - Member of the Contemporary Iranian Visual Arts Development Institute - Instructor at Al-Zahra Art University, Tehran
Education
- M.A. in Painting from Al-Zahra University in Tehran (2014)
- B.A. in Drawing from Azad University, faculty of Art and Architecture, Tehran Markazi branch (1997)
- Diploma in Graphic Design from the vocational school of Visual Arts (1992)
Individual Painting Exhibition
- Karoon Gallery - Vancouver, Canada (2015) - Behzad Gallery – Tehran, Iran (2013)
- Keyhan Gallery – Tehran, Iran (1996)
Group Painting Exhibition
- "Female university professors of art in Tehran" in Nazargah Honar Gallery – Tehran, Iran (2018)
- "Selected Works by Paris Expo Artists" in Idea Gallery – Tehran, Iran (2018) - "Baharaneh Koochak" in Farda Gallery – Tehran, Iran (2018)
- "Blue exhibition" in Saint-Roch Gallery – Paris, France (2018)
- Port-of-Art Gallery, Time Museum – Tehran, Iran (2013)
- Behzad Gallery – Tehran, Iran (2013, 2014)
- Seyhoon Gallery – Tehran, Iran (2003)
- Arya Gallery – Tehran, Iran (2002)
- "Selected works of young generation" in Barg Gallery – Tehran, Iran (1999,2000,2001) - Daryabeigi Gallery – Tehran, Iran (1998)
- "Selected works by women painters of Iran, manifestation of feeling " in Niavaran Cultural Center – Tehran, Iran (1994, 1995, 1996)
- Homa Gallery – Tehran, Iran (1996)
- Camagallery, London, England-2019
- Barok gallery, 7th.Festival art for peac Unesco, Tehran_iran 2019


Cultural and artistic activities
- Curator of two Painting Exhibitions in Paris (2018)
- Executive Secretary of the Second Expo of Student Painting (2019)
- Executive Secretary of the First Expo of Student Painting (2017)
- Arbitrator of the Environmental Art Festival (2017)
- Teacher of Painting Group at Research Training Center of Tehran University (2007 – 2016)
- Presenting 50 works of painting
- Acting in the movie "Auction", directed by Hossein Shahabi
- Collaborating with Mahak Charity Center (2012 – present)
- Collaborating with the graphic design team of TV Programs for kids and teens in IRIB (1990 – 1996)


Festivals and Biennials
- Selected work at Crowell Painting Festival – Vancouver, Canada (2015)
- Selected work at the First Painting symposium at Palace Museum Garden (2013) - The 5th Painting
- Biennial of Tehran Museum of Contemporary Art (1999)
- Selected Exhibition of Iranian Women Painters (1999,2000,2001) - Selected work at Student Painting Exhibition (1995)

Publications
A Review on the Devine imagination in Persian art: Iranian philosophers Views – Sana Publication (2016)


Article
The Devine imagination in the Islamic Era Persian Painting: Ikhwan al-Safa's Views (2015)