عاقبت پرواز
بعضی ها در گذر زندگی مانند فولادی هستند که مدام آبدیده می شوند و در برابر هر سختی آن را به سود خود تغییر می دهند . حتی اگر وسیله سخت و برنده ای مانند چاقو باشد . این انسانها همیشه برنده هستند ...

Sequel to the flight
Some in life are like steels that are constantly watered and changed for the benefit of everyone. Even if the hard and winning device is like a knife. These people always win ...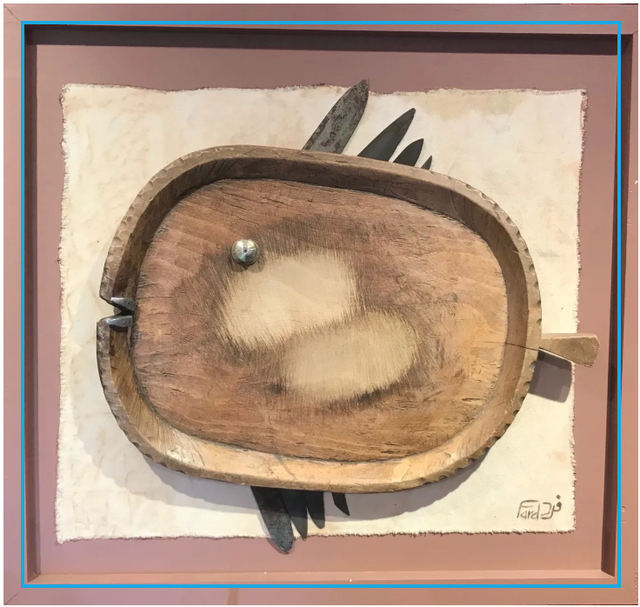 Achetez l'oeuvre
Contactez-nous pour des facilités de paiement ainsi que pour une livraison internationale offerte
Designer and Painter
Member of Academic Staff, Painting Department, Faculty of Art, Al-Zahra University.

EDUCATION:
7002-7002 Ph.D. in Visual Art, Strasbourg University, France. Studied M.A. in Painting, Tarbiat Modarres University, Iran. Studied B.A. in Painting, University of Art, Iran.

ARTISTIC EXPERIENCES:
1994 to 2001 Member of Visual Department of Howzeh Honari (Art Center), Tehran 1995 to 2000 Artistic consultant and designer in the public relations of the office of presidency
1996 to 2000 Designing and implementing more than 01 beautification designs on the island of Kish
2004-2008 Affiliated to the following artistic groups:
"Place des Arts, Krut Art, L,Art Scene, and Artheim"
1996, 2010, 2011 Holding three individual exhibitions in Sureh House and Behzad Art Gallery
2005-2007 And four exhibitions in the city of Strasburg
2004-2006 Participation in the second Biennial of Tehran Painting
Edit July 7102
1993-1999 Participation in five group exhibitions of the Museum of Contemporary Art, Farhang-Sara Bahman, Sureh House, and International Exhibition
Participating in forty group exhibitions in the following cities:
"Paris, Strasbourg, Colmar, Saverne, Haguenau, Barr"

EXECUTIVE ACTIVITIES:
1996-2000 CEO of Beautician Company in Kish
1998-2000 Head of painting department, Faculty of Art, Al-Zahra University, Tehran & 2010-2012
1999 The planner and director of the Artistic-Cultural Festival Miyad with Sepideh, Kish Island