Defaced
100x100cm
acrylique sur toîle
Vos paramètres de cookies actuels empêchent l'affichage de contenu émanant de Youtube. Cliquez sur "Accepter et afficher le contenu" pour afficher ce contenu et accepter la politique d'utilisation des cookies de Youtube. Consultez la Politique de confidentialité de Youtube pour plus d'informations. Vous pouvez retirer votre consentement à tout moment dans vos paramètres des cookies.
Accepter et afficher le contenu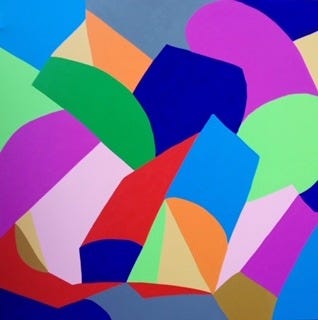 Achetez l'oeuvre
Contactez-nous pour des facilités de paiement ou pour une livraison internationale offerte
Raisa Ambros is an artist from London.
The master work represents an abstract face – one which in reality has already been destroyed.
This artwork therefore becomes a symbol for all those women who have found themselves literally and metaphorically defaced after undergoing aesthetic surgery: And perhaps it should be present as an artwork of awareness in every clinic.


When seen from a distance, it's the beauty inside the head of each woman before her operation. And on another level, the beauty she obtains with make-up. But in reality, seen closer, we discover that the forms are irregular, and the lines imperfect: In a word, Defaced…


So for all women, and especially younger ones, the message is always: "Love yourself as you are! Find the beauty inside. Because it is already yours."
Presentation de l'artiste
Raisa Ambros is an artist and journalist based in London. She has a special passion for colour, which she mixes in an original way to create her captivating abstracts.

Energy is in perpetual flow throughout her artwork, making the forms and shapes on the canvas fluid and vibrant.
Her abstracts are rich in details, which playfully open up to an infinite number of interpretations.
After a long period she dedicated to the pursuit of truth through journalism, Raisa re-discovered the joy of painting through art therapy, which she now also practices.
Being deeply sympathetic to chromatic vibration across the spectrum, her vivid artworks are highly therapeutic and full of pure energy.
In between endlessly pursuing new and exciting techniques of colour application, she is also available for commission and consultation.