Life Dreaming into Being
Acrylique on canvas


Life Dreaming into Being

What is it that our Soul wishes to be, and be seeing?
Through our eyes and our senses, as we feel, go and grow on our way through this life.

Like a Tree, spiralling outward and upward from our centre, yearning to be free stretching out with
our branches, our arms, as we whirl and twirl in the mysteries of these infinite cosmic dances

Grace lands on us like a bird, a butterfly, a bee, as we continue shooting our roots deep down into the Earth,
growing like Trees. At some point we realise: We are already free!

Free to be our Imagination's destiny, free to be cursed, or blessed, it's up to you and me.
For life gives us what we consistently Imagine, and Align with.

So I hope you now know once more, if you did not already know before:
You are Life! You are Life, Dreaming into Being.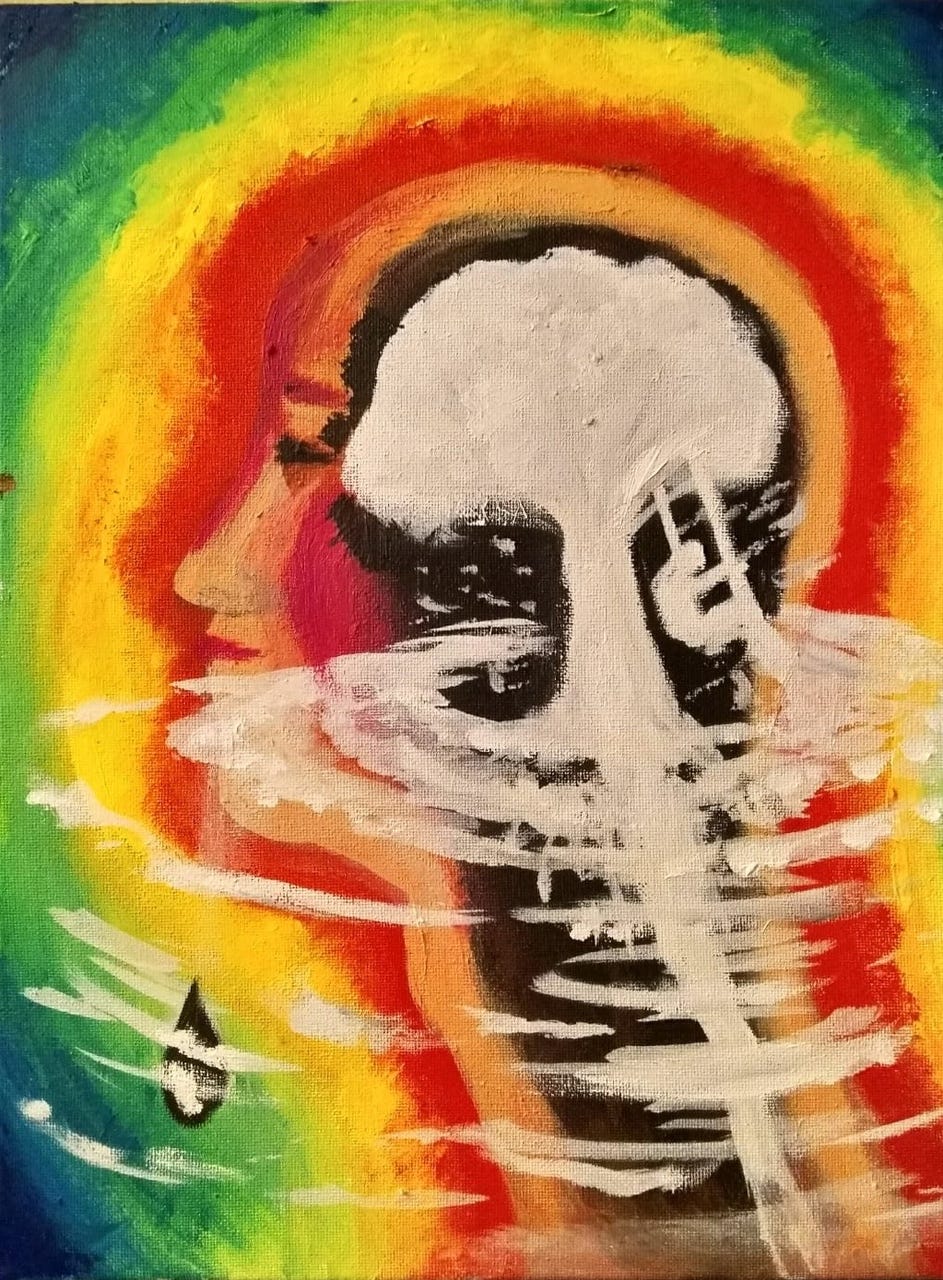 Achetez l'oeuvre
Contctez-nous pour des facilités de paiement ou pour une livraison internationale offerte
Samuel Adam Alder was born in Berlin, Germany, to English Parents,
quickly recognised as a Philosopher-Artist, be began asking questions at the age of 4 like
"Is life real or is it a game?",
"Can flowers sing?" and
"Was life black and white when those photos were taken? Is that why people went to war?"
Luckily, his parents didn't answer those questions, but let him keep exploring the world and his imagination.


Age 16 Samuel took a leap of faith and left school, to study Fine Art at the University of Art, Berlin.
He was accepted based on the strength of his portfolio.
Frustrated at University, he left after 2 years,
realising this would not fulfill him and he would not
learn what he wanted there: Answers to the big questions.
He learned the trades of Web Design, Image editing (Photoshop) and started practicing Yoga.
Dismayed at the global situation of War, Poverty and Desperation,
Sam studied Philosophy, History, Mythology,
and so on, he started finding answers.
Travelling to Florence, San Francisco and London but most of all, deep within, he learned that every human has this unique, transcendent, heroic quality to them.
Following in the footsteps of some of his heroes, Siddhartha Gautama known as Buddha, who declared "I shall not learn from the Rig or Atharva Veda, but from myself"
and Yeshua ben Joseph "The Christ", who proclaimed "I am the light" After many hundreds of hours of meditation,
he started experiencing states of bliss and enlightenment and finding substantial answers to his deep questions.
Awakening to his spiritual quest & life purpose:
To be the light, Sam today combines his natural talents of Poetry, Drawing / Painting and so on with
making videos and fund raising for Orphanages and Charities, as well as raising awareness as a whole.
Samuel is now writing a book, an encouraging love letter for Humanity: "God wants you to be truly rich",
weaving together such diverse fields as Renaissance and Surrealist Art, Personal Development, History, Mythology, Biology, Quantum Physics and Sacred Geometry,
He aims to deliver this by the summer of 2020